Rosalie is the founder and producer of Blue Hill Recordings. Her performances are available on Blue Hill and other CDs.
Blue Hill Recordings is seeking investors for a new CD by Rosalie & Friends. For more information please contact Rosalie.
Sleep My Child
Produced by Rosalie Gerut & Jeff Jampel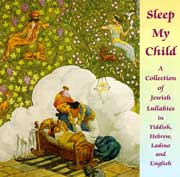 A collection of beautiful and exquisitely haunting lullabies in Yiddish, Hebrew, Ladino & English accompanied by guitar, mandolin, bass, accordion, violin, dumbek, cello and piano. Children as well as adults will be captivated and soothed by this lavish collection. A perfect gift for a newborn child.
Featuring vocalists: Judy Frankel, Rosalie Gerut, Normal Janis, Lilly Kinas, Robert Solomon, and musicians: Jeff Warschauer, Andrew Blickenderfer, Evan Harlan, Mimi Rabson, Bob Weiner, Moshe Feldman and Sandi-Jo Malmon. Translations and Transliterations included.
Listen to "Sarah's Lullaby & Hagar's Lament"
© Lyrics by Itzik Manger & Miriam Hoffman, Music by Rosalie Gerut (ASCAP)
The part of Sarah is sung by Lilly Kinas and Hagar, by Rosalie.
Translation: "Sarah's Lullaby & Hagar's Lament"
Sarah:
Ay li lyu li, little Isaac, ay li lyu li sleep
At our door already stands
The shepherd with his sheep.
Hagar:
Oh just as the chimney smoke disappears into the air
Just as a train passes by at the blink of an eye
So is the love, mother dear, so is the love of a man.
View for  more information and to purchase.
We Are Here
Songs of Remembrance, Hope & Celebration in the Jewish Tradition
Produced by Rosalie Gerut & Hankus Netsky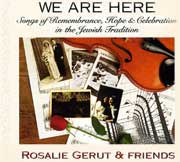 Sons and daughters of Holocaust survivors & their friends present this poignant, beautiful and memorable recording of music from before, during and in response to the Holocaust featuring Rosalie Gerut with special guests: Holocaust survivor Cantor Alan Fine, Lilly Kinas and a chorus of descendants of Shoah survivors.
Musicians: Hankus Netsky, Jeff Warschauer, Jim Guttman, Robin Miller, Cam Sawzin, Andy Blickenderfer, Sandi-Jo Malmon, Grant Smith, Bob Weiner, Fishel Bresler & Moshe Feldman
Listen to "Friling"
© Lyrics by Shmerke Kaczerginski, Music by Abraham Brudno
Translation: "Friling" Chorus
Springtime, please take my sorrow
And bring my loved one,
My dear one back to me.
Springtime, upon your wings of blue
Take my heart with you,
And bring love back to me.
View for more information and to purchase.
Shirim Klezmer Orchestra
…of Angels and Horseradish
Produced by Rosalie Gerut & Glenn Dickson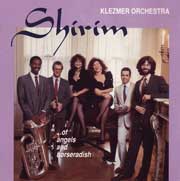 A playful, lively and highly enjoyable CD featuring Rosalie Gerut, Betty Silberman and Avi Hoffman of the Joseph Papp Yiddish Theater, with originals and favorites in the Klezmer tradition.
Musicians: Glenn Dickson, David Harris, Rami Bar-David, Julian Dixon, Guillermo Nojechowicz, Bob Weiner.
Listen to "Oy Mame Bin Ikh Farlibt" (Oh Mama, Am I in Love!)
© Betty Silberman & Rosalie Gerut (ASCAP)
Translation: "Oy Mama I'm In Love" (mother/daughter conversation)
Oh Mom, I'm hot
You have a fever?
No, now Mom, I'm cold
Are you sick?
No, Mom, I'm in love!
You're in love? Better to be sick!
View for more information and to purchase.
The Orphan Queen
A Musical by Robbie Solomon — Retelling of the Biblical Story of Esther
Cantor Robbie Solomon's musical, The Orphan Queen, is a beautiful and unique retelling of the captivating Biblical story of Esther featuring Rosalie Gerut as Esther and Betty Silberman as Vashti.
Listen to "What Am I To Do?"
© Music & Lyrics by Robbie Solomon; Performed by Rosalie Gerut & Timothy Sawyer
View for more information and to purchase.
Everything Bagel for Your Ears
A Taste of Local Jewish Music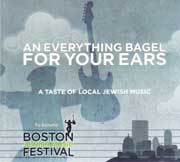 This 2012 compilation of Boston Jewish music groups includes Klezmer Conservatory Band, Zamir Chorale of Boston, Klezwoods, Guy Mendilow, Robert Pinsky, Rosalie Gerut, ShenaniGanns and others.
View for more information and to purchase.