Music of the Jewish Experience
Rosalie weaves her unique gifts of song, humor and storytelling along with the wisdom of her long and rich tradition. She combines a beautiful, versatile voice with accomplished guitar accompaniment and the resulting experience is unforgettable. Rosalie's father and grandfather were folk musicians and Yiddishists and she is one of the few authentic Yiddish folksingers.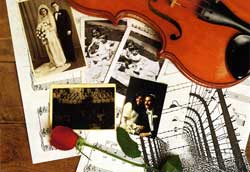 Rosalie sings in her native Yiddish as well as in English, Hebrew, Ladino/Spanish and Russian, providing translations whenever needed. Her songs range from traditional folk songs to her own original compositions and those of gifted songwriters from various parts of the world. She has appeared internationally in concert halls, on television and radio, as a soloist, with her own group Rosalie & Friends, as lead vocalist with Shirim Klezmer and as guest vocalist with the Klezmer Conservatory Band. Most recently she appeared as a featured artist for the Boston Jewish Music Festival.
"I believe that I was given the gift of music to overcome the terrible darkness which my parents as well as so many others experienced during the Holocaust. My hope is that through the power of music, along with the humor and wisdom of the ages, we can support one another through life's journeys, from the difficulties of walking through the 'valley of the shadow of death' to the uplifting experience of dancing with each other in joy and hope."
R. Gerut
For information regarding concert bookings, please contact Rosalie
Rosalie Gerut & Friends
Featuring Hankus Netsky, founder of the Klezmer Conservatory Band and other outstanding musicians/recording artists. You can hear them on the video clips from the Boston Jewish Music Festival and on the CD We Are Here.
Betty & Rosalie
Rosalie & Betty Silberman, both native Yiddish speakers and veterans of the Joseph Papp Public Theater, present colorful scenes and selections from the Yiddish folk and theater traditions accompanied by outstanding musicians in the Klezmer tradition. You can hear them with the Shirim Klezmer Orchestra.
Rosalie Gerut: A Concert & Discussion
Rosalie presents a solo concert, Music of the Jewish Experience along with a talk, Journeys of Transformation. During the talk she speaks about her life as the daughter of Holocaust survivors and how her search for understanding brought her to an encounter with the descendants of those who were involved in the Nazi Regime. This encounter led to her co-found a remarkable organization, One by One, Inc. To bring the audience into the experience she shares a short film of the encounter and tells the gripping stories of its participants.
A portion of the proceeds from these presentations is donated to One by One, Inc.
For her presentation, she was awarded the Outstanding Speaker Award from Brandeis University's Bolli Program.
For her work in spearheading the creation of One-by-One she was awarded the Charlotte Bloomberg Award and the Exceptional Woman Award for Courage from WMJX Boston.
Musical Theater Productions
Music by Rosalie Gerut
Songs of Paradise, a full length production, originally presented at the Joseph Papp Public Theater to rave reviews. For more information or for booking, please contact Rosalie.
Prairie Lights is a full length production, nominated for the Chicago Tony. For more information please contact Dramatic Publishing.
Rosalie has produced and directed both Prairie Lights and The Orphan Queen and is currently working on another soon to be complete musical theater piece.