Regattabar presents
5th Annual Klezmer Music Festival featuring Rosalie Gerut & Klezwoods
David Sparr (piano), Joe Kessler (violin)and Grant Smith (percussion)
Saturday    October 13, 2018    7:00 PM
Regattabar at the Charles Hotel, One Bennett Street, Cambridge, MA
For more info and ticket purchase: Regattabar at the Charles Hotel
2016
Temple Beth David presents
Rosalie Gerut & Friends
David Sparr (piano), Joe Kessler (violin), Andrew Blickenderfer (bass & mandolin) and Grant Smith (percussion)
Sunday    November 6, 2016
Temple Beth David, 3 Main Street, Cheshire, CT
For more info: Michael Rutberg
Temple Emunah presents
Rosalie Gerut with Michael McLaughlin, Pianist
at Monthly Breakfast sponsored by Hazak (formerly 55+ Club)
Sunday    June 26, 2016    9:45 AM
Temple Emunah, 9 Piper Road, Lexington, MA, (781) 861-7141
Tickets: $8 for Hazak Members; $10 for all others
For more info: 55.plus.club@gmail.com
The Barbara & David Stahl Concert Presents
Rosalie Gerut & Friends
Andrew Blickenderfer, Mitchell Gordon, Lisa Marcus Jones and Celia Shneider will be joining Rosalie
Saturday    May 7, 2016    7:30 PM
Doors open at 6:30 for Silent Auction and Appetizers
Temple Adath Yeshurun, 152 Prospect Street, Manchester, MA, (603) 669-5650
Tickets: $18 in advance; $20 at the door
2015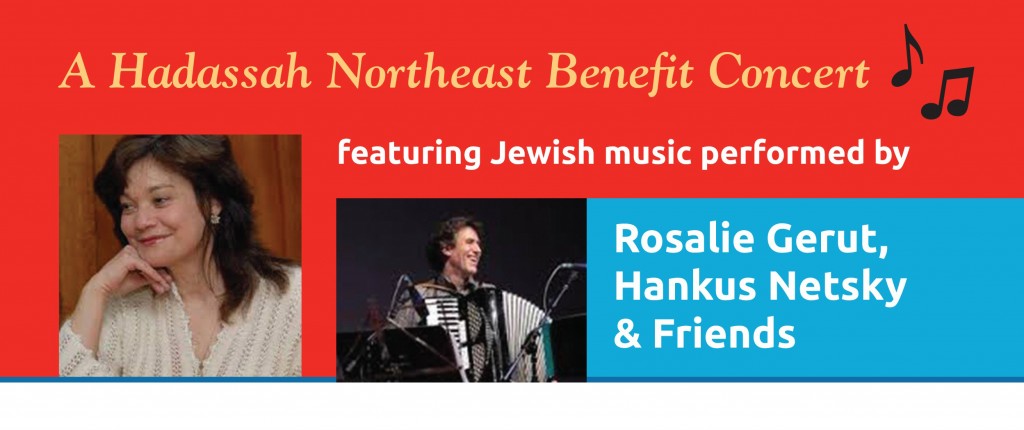 Saturday    November 21, 2015    8:00 PM
Gann Academy, 333 Forest Street, Waltham, MA
Special opportunity to meet the musicians following the concert
Concert Tickets: $54 per person
Concert proceeds will benefit cutting edge research and treatment at the Hadassah Medical Organization in Jerusalem.
RSVP by Monday, November 16
Register online at www.hadassah.org/events/hnekeepers
or mail a check to Hadassah Northeast, Attention: Concert, 1320 Centre Street, #205, Newton Center, MA 02459
Questions? Please email Hadassah Northeast at HNE@hadassah.org or call (781) 455-9055
2014
Rosalie & Friends
Hankus Netsky, Eden MacAdam-Somer, Andy Blickenderfer, and Henry Goldberg will be joining Rosalie
Saturday night    November 1, 2014    7:00 PM       Kerem Shalom, Concord, MA
Co-sponsored by the Boston Jewish Music Festival
For ticket information and purchases, see Brown Paper Tickets website.
An Evening with Theodore Bikel
Featuring guests artists Rosalie Gerut & Hankus Netsky
Saturday night    March 1, 2014    7:30 PM       Berklee Performance Center, Boston
Sponsored by the Boston Jewish Music Festival
For more information and tickets go to Boston Jewish Music Festival website.